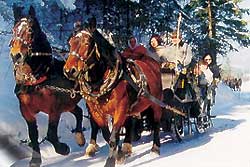 in winter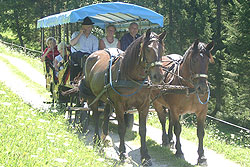 in summer

An excursion with horses is a special experience.

Carefree in the marvellous ambiance of nature, the excursion with two-horse power will lead you through Abtenau's romantic landscape. Enjoy a fascinating view from the Tennengebirge to the Dachstein Range.

We will be pleased to organise excursions for different occasions, such as:
birthdays, children's birthdays, jubilees, weddings, golden weddings or an excursion in a horse-drawn sleigh in winter with a stopover at a cosy inn.


We will be pleased to highlight the most beautiful day of your life with an excursion in our wedding carriage.

Groups of up to 50 persons can be arranged regularly in winter and include a stopover for a rustic snack with schnapps.